2019 Frost and Sullivan: "Multiplex PCR Software Enabling Technology Leadership Award"
Part of Collaboration team that published paper on Hachimoji base pairs in Science 2019 (featured in NYT, CNN, Nature, NASA, and other news outlets)
2021 (to JSL): AOAC Award "Recognition of Technical and Scientific Excellence: COVID-19 Emergency Response Validation Program Advisory Group"
2020: Amazon AWS Diagnostic Development Initiative Award: Phase I
2022: Amazon AWS Diagnostic Development Initiative Award: Phase II
2022: DNAS wins NVIDIA Inception Award to implement GPU computation
Thought Leadership in the field: Led multi-agency panel (DoD, CDC, FDA, LNL, USDA, etc.)
"Recommendations for Developing Molecular Assays for Microbial Pathogen Detection Using Modern In Silico Approaches," SantaLucia, J., Jr., Sozhamannan, S., Gans, J.D., Koehler, J.W., Soong, R., Lin, N.J., Xie, G., Olson, V. Roth, K., Beck, L.S. J. AOAC Int., 103, 882-899 (2020).
December 17, 2020
Accelerated scientific program speeds availability of validated test kits needed in manufacturing and other situations where maintaining surfaces free of coronavirus is a public health concern
Rockville, Maryland, December 18, 2020 – AOAC INTERNATIONAL announced today that it has issued Certificates of Validation for three proprietary test kits that detect SARS-CoV-2, the causative agent of COVID-19 illness, on environmental surfaces.
The three tests are the first to pass the rigorous independent evaluation required by the globally recognized AOAC Research Institute's Performance Tested MethodsSM Program, which implemented an Emergency Response Validation process to accelerate the review process.
"Food manufacturers and contract labs have stringent protocols to ensure their facilities are free of harmful pathogens and more recently, viruses," said Erin Crowley, president of AOAC INTERNATIONAL. "Now, they also have independently validated tests they can use to ensure their sanitation protocols are effective and they continue to provide a culture of safety for their essential employees."
In this initial phase of the validation process, test kits were evaluated for detection of the virus on stainless steel surfaces only. AOAC will expand validation to a broader range of environmental surfaces and food matrices in a follow-up project.
While SARS-CoV-2 is known to be susceptible to standard disinfection methods,1 recent studies have shown that it can also be highly persistent on non-porous surfaces2 such as stainless steel.
Certifications were issued for the VERIPRO® SARS-CoV-2 Environmental Assay by bioMérieux; EnviroX-Rv by PathogenDx, and COVID-19 Indoor TestTM by Phylagen.
The bioMérieux VERIPRO SARS-CoV-2 Environmental Assay uses molecular, one-step, reverse transcription polymerase chain reaction (RT-PCR) technology for qualitative detection of SARS-CoV-2. The VERIPRO SARS-CoV-2 Environmental Assay can be performed without the need for an optional RNA purification step. No clinical supplies or reagents are required to run the VERIPRO SARS-CoV-2 Environmental Assay, freeing up critical clinical COVID-19 testing resources. The test is commercially available and can be run on all GENE-UP® Real Time PCR systems.
The PathogenDx EnviroX-Rv assay is a test based on end-point RT-PCR coupled to DNA microarray hybridization for the detection of multiple genes within SARS-CoV-1 and SARS-CoV-2 viruses. The advantage of the EnviroX-Rv assay is its ability to deliver a higher level of sensitivity as demonstrated by its lower limit of detection in comparison to the reported qRT-PCR assays approved by the U.S. Food and Drug Administration Emergency Use Authorization. Additionally, the DNA microarray provides unmatchable multiplexing power where numerous viruses and clades can be detected off a single swab at an affordable cost. The test is already in commercial use and available.
The COVID-19 Indoor TestTM by Phylagen is a SARS-CoV-2 qualitative detection method that extracts the SARS-CoV-2 RNA from environmental swabs and detects it utilizing RT- PCR technology. Environmental surface swabs are collected by the customer and shipped back to Phylagen, Inc. for sample processing. Sample data are analyzed, and results are reported through a tracking portal. The test is commercially available for sampling surfaces and is a single site method for the detection portion of the test method.
To perform the reviews, the AOAC Research Institute technical consultants (Patrick Bird, Sharon Brunelle Ph.D., Maria Nelson and Zerlinde Johnson) assembled a team of analytical science experts.
Laura J. Rose is a Microbiologist at the Healthcare Environment Applied Research Team, Clinical and Environmental Microbiology Branch, Division of Healthcare Quality Promotion of the U.S. Centers for Disease Control and Prevention.
John SantaLucia, Jr. Ph.D. is President and Co-founder of DNA Software, Inc. and a Professor at Wayne State University.
Chengzhu Liang, Ph.D. is Director of Technical Center of Qingdao customs in the People's Republic of China as well as President of the AOAC China Section.
Sanjiv R. Shah, Ph.D. is a Senior Microbiologist in the Homeland Security Research Program of the U.S. Environmental Protection Agency's Office of Research and Development.
Jacquelina Williams-Woods, Ph.D. is a Research Microbiologist at the U.S. Food and Drug Administration's Gulf Coast Seafood Laboratory.
William Burkhardt, Ph.D. is the Director, Division of Seafood Science and Technology at the U.S. Food and Drug Administration's Gulf Coast Seafood Laboratory.
Efstathia Papafragkou, Ph.D. is a Research Biologist at the Molecular Virology team, Division of Molecular Biology, Center for Food Safety and Applied Nutrition, U.S. Food and Drug Administration, Laurel, Maryland USA.
This validation project broke new ground by employing in silico ("in silicon") analytical techniques that harness modern computational power to compare results against large databases of genetic information. This has a significant advantage over traditional "wet-lab" testing in that genetic sequences from tens of thousands of strains of SARS-CoV-2 and near neighbors could be analyzed for inclusivity and exclusivity. Moreover, obtaining and shipping large numbers of SARS-CoV-2 strains and variants necessary for comparison could be difficult and potentially dangerous.
AOAC received validation applications for nine test kits in this initial phase of the program. In addition to the three that have received certification, four are in the final stages of certification and two are being revised for re-submission.
"The extraordinary depth and precision of in silico analysis in this Emergency Response Validation Program are remarkable," said Scott Coates, AOAC Research Institute Director. "Some kits are demonstrating over 97 percent perfect matches for more than 15,000 SARS-CoV-2 genomes, when traditionally we can only test against 100 species, strains or variants. This is world-class research conducted in double-time tempo."
For information, please email Scott Coates at scoates@aoac.org or call at 301-924-7077 Ext. 137.
---
1. "Stability of SARS-CoV-2 in different environmental conditions", The Lancet Vol. 1 Issue 1, May 1, 2020, https://www.thelancet.com/journals/lanmic/article/PIIS2666-5247(20)30003-3/fulltext (accessed December 10, 2020)
2. "The effect of temperature on persistence of SARS-CoV-2 on common surfaces", Virology Journal, 7 October 2020 https://virologyj.biomedcentral.com/articles/10.1186/s12985-020-01418-7 (accessed December 10, 2020)
(Article link) : https://www.aoac.org/news/aoac-international-certifies-three-test-kits-for-detecting-novel-coronavirus-on-surfaces/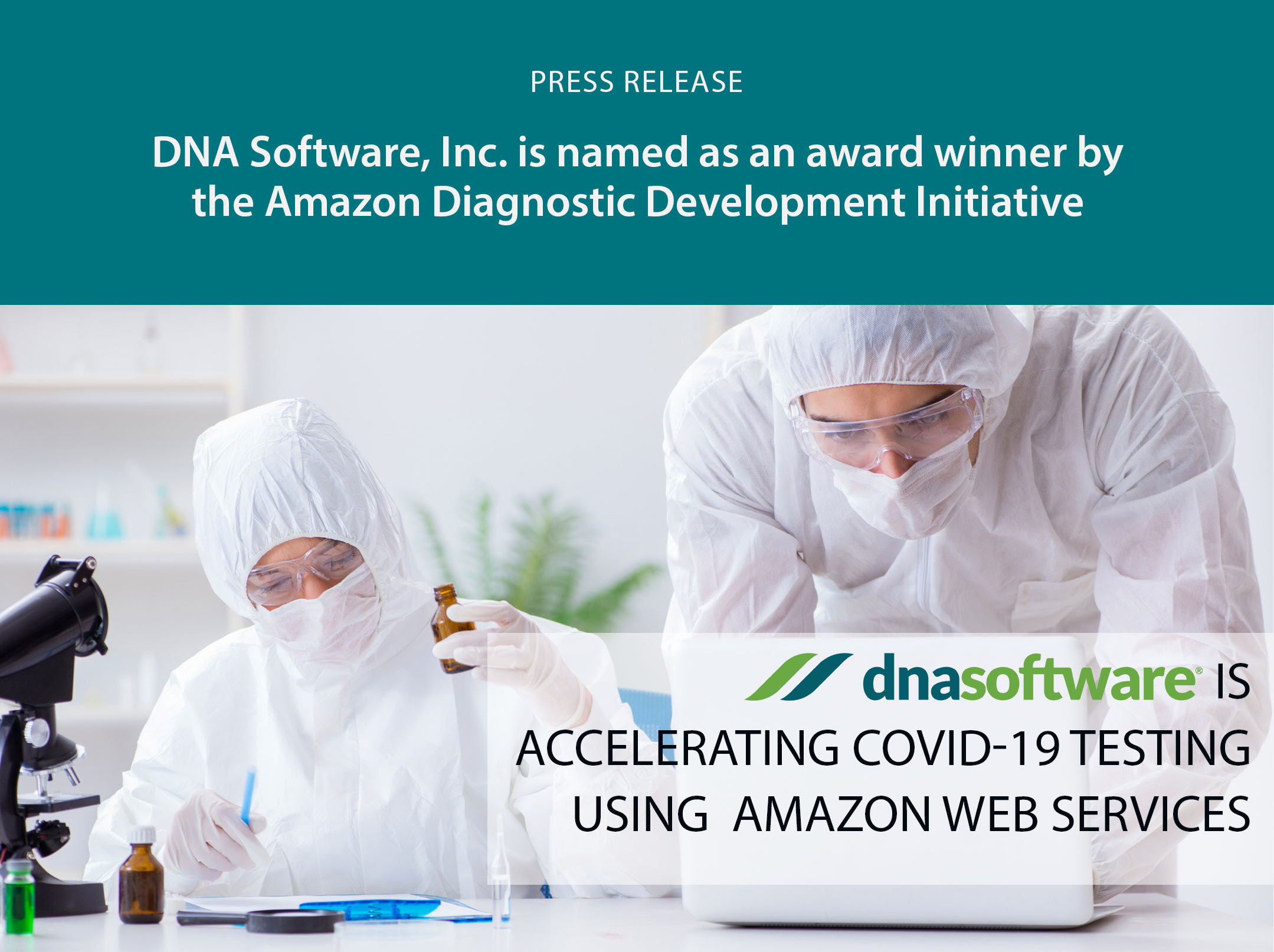 DNA Software, Inc. is harnessing the power of AWS cloud computing to automate the design of PCR primers to detect infectious diseases. DNA Software's PanelPlex technology is being used by customers around the world to create COVID-19 diagnostics with high accuracy.

The computationally intensive process involves 3 steps:


Databases with all known SARS-CoV-2 virus variants are analyzed to determine the least variable regions.


Minimize false negatives by performing folding simulations to determine regions of the viral genome that are accessible to DNA
primers.


Minimize false positives by determining undesired primer binding sites in the genomes of the many organisms present in patient
samples.

PanelPlex takes the guesswork out of determining where the primer should go, improves test accuracy, and reduces the time to market for new tests. The technology is powered through donated computing credits provided by the AWS Diagnostic Development Initiative.

The Award:
DNA Software, Inc. (DNAS) announced today that they have been awarded the 2019 North American Enabling Technology Leadership Award from Frost & Sullivan. This prestigious recognition is based on extensive and ongoing analysis of the North American multiplex PCR software industry by Frost & Sullivan.
"Achieving enabling technology leadership is never an easy task, and it is made even more difficult considering today's competitive intensity, customer volatility, and economic uncertainty—not to mention the difficulty of innovating in an environment of escalating challenges to intellectual property. In this context, your receipt of this Award signifies an even greater accomplishment. Frost & Sullivan recognizes that this accomplishment is the result of many employees, customers, and investors making daily choices to support your organization" shared Frost & Sullivan Chairman David Frigstad.
Frost & Sullivan notes that DNA Software delivers exceptional customer value through process automation. "PanelPlexTM allows researchers to design high-level multiplex PCR with limited effort and resources, thereby lowering customer's PCR design and testing budget significantly while accelerating product discovery timeline and time-to-market" commented F&S principal Unmesh Lal. For the full award summary see click here.
"We are pleased to receive independent industry recognition from such a reputable source as Frost & Sullivan. This recognition and award ultimately comes from our customers and partners who have come to trust DNA Software for multiplex design for nearly 2 decades" announced DNA Software CEO John SantaLucia.
About DNA Software, Inc.
DNA Software (DNAS) is headquartered in Ann Arbor, MI and provides software to the life sciences community that improves the design and analysis of molecular diagnostics. DNAS has world-class expertise in the development of nucleic-acid diagnostics with unprecedented sensitivity and specificity, particularly for multiplexed molecular diagnostic assays. These solutions are fully automated, thereby greatly reducing R&D costs compared to traditional trial-and-error experimentation. DNAS has accelerated the discovery timeline for their customers from months to minutes. Please visit http://www.dnasoftware.com.
About Frost & Sullivan
Frost & Sullivan, the Growth Partnership Company, enables clients to accelerate growth and achieve best-in-class positions in growth, innovation and leadership in addition to research and best practice models to drive the generation, evaluation and implementation of powerful growth strategies. Frost & Sullivan leverages more than 50 years of experience in partnering with Global 1000 companies, emerging businesses, and the investment community from 45 offices on six continents. To join our Growth Partnership,
please visit: http://www.frost.com.
Contact:
Joseph A. Johnson
Vice President, Business Development
DNA Software, Inc.
334 E. Washington St.
Ann Arbor, MI 48104
Office: +1 734 222 9080
Website: www.dnasoftware.com
Hachimoji:
DNA Software CEO Dr. John SantaLucia, COO Norm Watkins and Research Scientist Holly SantaLucia participated in a recent Science paper was featured in the New York Times, CNN, NASA, Nature, and several other news outlets for building hachimoji DNA.
Practical Applications:
John SantaLucia shared "In addition to the hyped implications for alien life, hachimoji DNA has practical applications to improving DNA-based diagnostics, synthetic biology, and computer data storage." To read more, click here
Eight Building Block Letters:
Team built an "alien" DNA system from eight building block letters, so expanding the genetic code from four and doubling its information density. The new system meets all of the requirements for Darwinian evolution and can also be transcribed to RNA.
One of the main characteristics of life is that it can store and pass on genetic information. In modern-day organisms, this is done by DNA using just four building blocks: guanine, cytosine, adenine and thymine (G, A, C and T). Pairs of DNA strands form a double helix with A bonding to T and C bonding to G.
Agreement:
NEW YORK (GenomeWeb) – Fluidigm said today that it has entered into a non-exclusive distribution agreement with DNA Software to provide that firm's CopyCount-CNV software for use with Fluidigm's Biomark HD system.
Biomark HD is an automated qPCR platform that uses microfluidics to detect CNVs in tens to hundreds of samples with significant cost and time savings over traditional plate‑based methods, according to Fluidigm.
CopyCount-CNV:
DNA Software's CopyCount-CNV complements the Biomark HD workflow by enabling researchers to measure CNVs with high accuracy by determining the absolute copy number of each marker from raw fluorescence qPCR data and computing the ratio of those copy numbers to reveal the CNV.
Accurate CNV:
The combination of the easy-to-use CopyCount-CNV software and the proven, high-performance Biomark HD automated qPCR system from Fluidigm has the potential to result in more accurate CNV determination in both translational and clinical research, John SantaLucia, co-founder, president, and CEO of DNA Software, said in a statement.
Article in Nature:
DNA Software was featured in a recent article published in Nature on July 16, 2018 titled "Multiplexed identification, quantification and genotyping of infectious agents using a semiconductor biochip". To learn more click here
Biology Methods & Protocols:
DNA Software Acknowledged and Referenced in Biology Methods & Protocols paper titled "An array-based melt curve analysis method for the identification and classification of closely related pathogen strains".
Fall 2019 newsletter
Click here to download a pdf copy of the DNA Software Fall Newsletter
Large Scale Multiplex PCR Panel Design
Large Scale Multiplex PCR Panel Design with >95% Success in Hours, Not Months
John SantaLucia, Ph.D., co-founder and CEO, DNA Software
Abstract: We aim to solve the problem of multiplex PCR design by a three-pronged approach: 1. improved understanding of the mechanism of PCR and the causes of artifacts, 2. improved algorithms for predicting secondary structure and mis-hybridization, and 3. implementation of cloud to address large sequence databases. These approaches vastly improve the success of fully automated multiplex PCR design with larger plex sizes. This enables applications such as targeted enrichment for NGS and infectious disease molecular diagnostics.